Hello and bienvenidos to ReedPop's Discord server!
We'll assume most of you are already Discord experts, but if you need a little refresher, don't sweat it. Discord is a platform that lets you meet and engage with other members of the community to talk about the things you love and have in common. It's where Whovians meet anime kids meet comic book geeks, and if you've ever been to one of our shows, you'll fit right in.
Here's What You Need to Know
This server helps us bring all the fun of our physical shows online, and everything that comes with it: the cosplay, the fans, the creators, and all the little exciting things in between.
That also means that we have to protect our fans the same way we do at our shows. Here's the short version: be nice, respect others, and create a safe environment for everyone.
Check out our anti-harassment policy in greater detail on New York Comic Con's page here.
Here's what you can expect once you get in
We've created a space for approved vendors and exhibitors to share their sweet merch and exclusives.
There's an artist alley where approved creators can share their work or social media handles.
A Metaverse category for all things metaverse - which you already know about cause you're on the ReedPop Metaverse website.
Fandom specific channels, where you can argue whether or not Tom & Jerry is an anime, or share your non-spoiler theories about the suspicious overlap of the MCU and Community.
Show specific channels, cause Chicago is very different from Miami.
Cosplay stuff. Everybody loves Cosplay.
How to Get Access to ReedPop's Discord Server
No need to blast through Platform 9 ¾, the server is just a few clicks away.
Click the button at the bottom of this page, it'll direct you to the entry page for the server. Tap to join.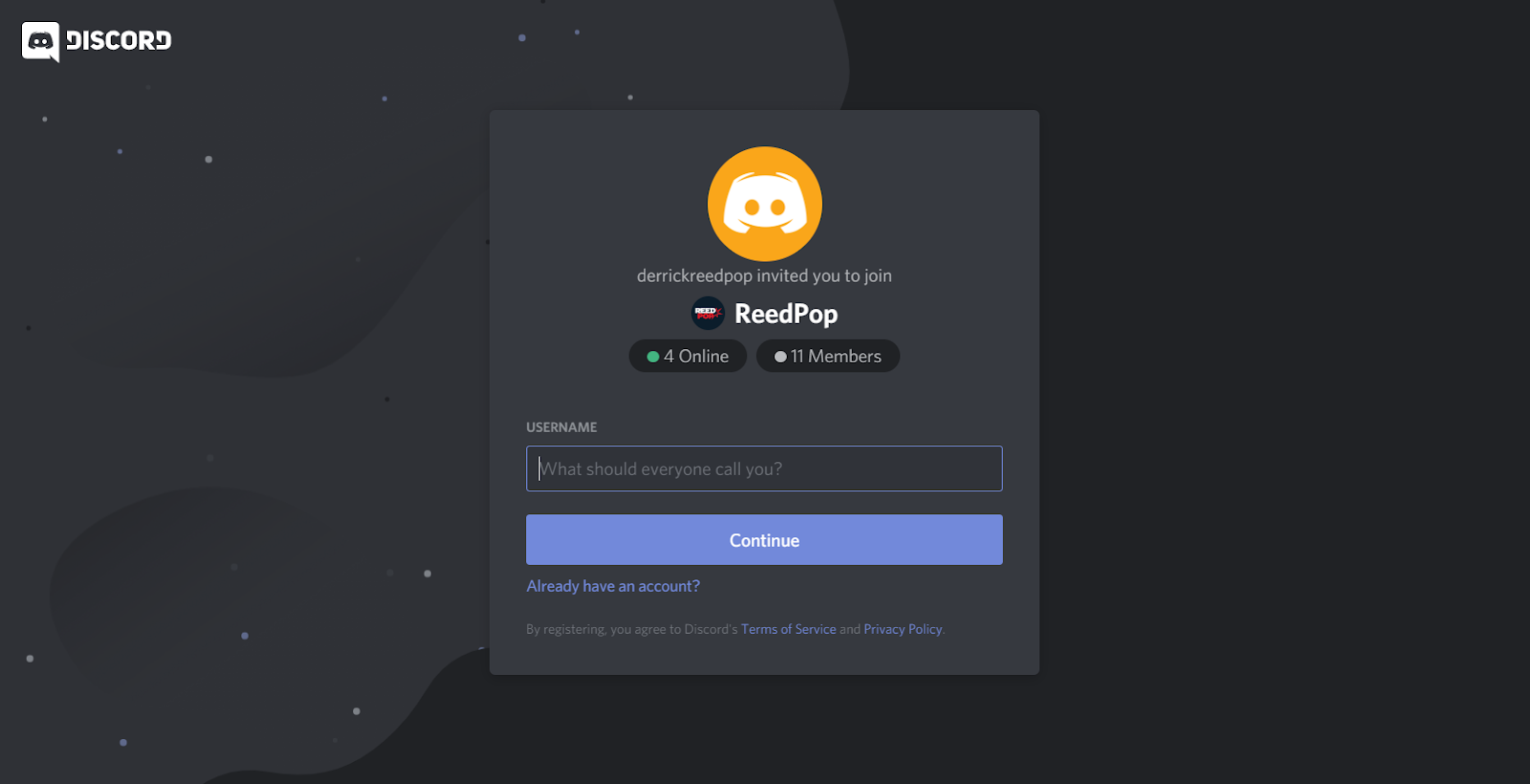 Read and react to the message in #start-here-and-rules with a heart.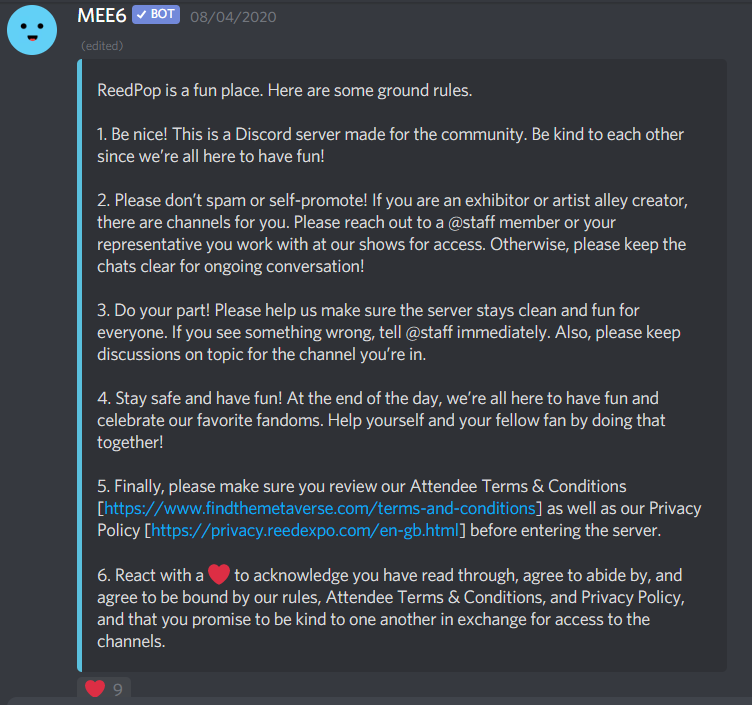 That's it, you're in.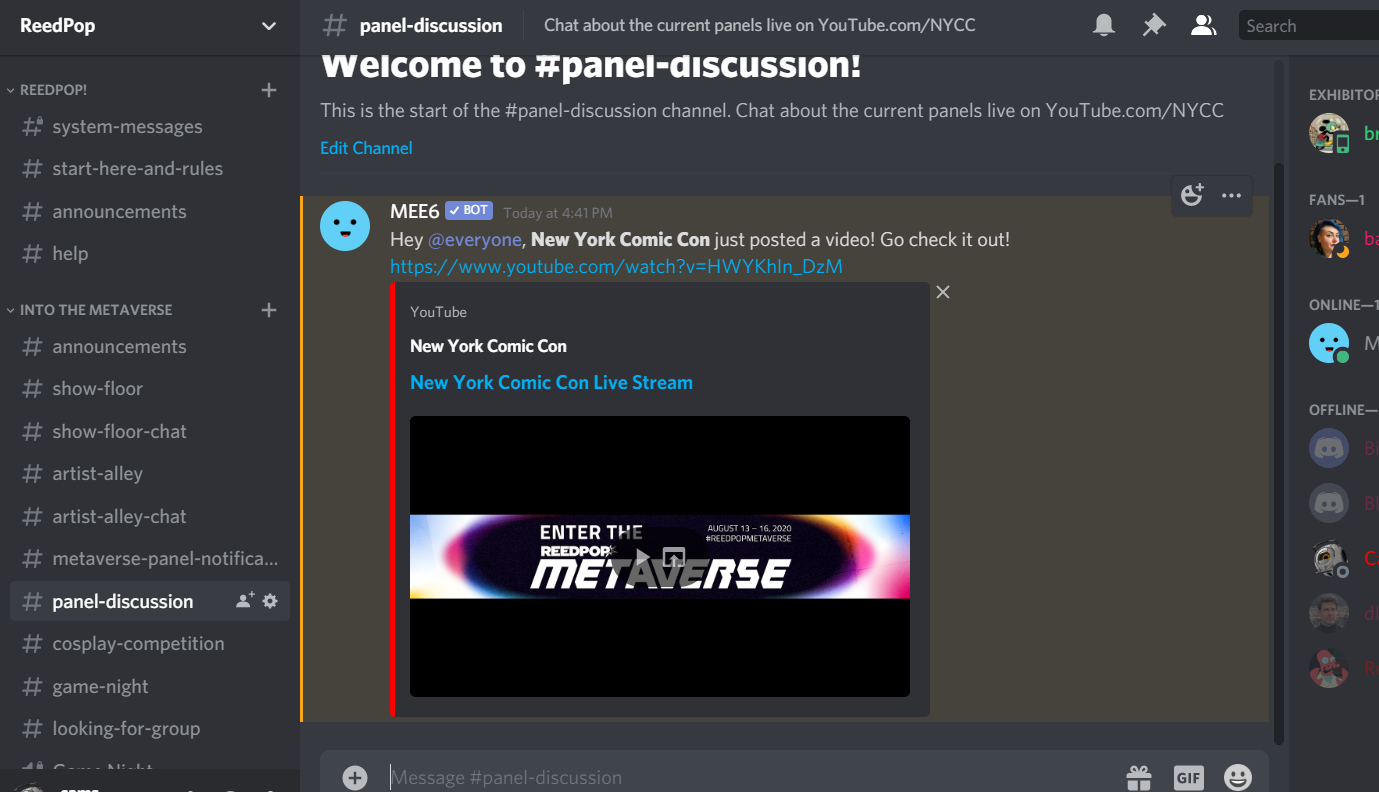 If you get too many notifications, it's easy to turn some off or hide them. Right click on the server, a category, or a channel to adjust notification settings at each level.
Need a Hand?
Just flag down a staff mem-- wait, that won't work.
Tap on the #help channel, and type your question right there. A staff member or moderator will swing by on a Segway and help you out. If you'd like to message someone directly, send a message to someone marked Staff or Moderators - you can see them on the right hand side.
By clicking the below, you acknowledge that you have read and agree to our Privacy Policy and our Attendee Terms of Service.