Galley Giveaway sign up for What Unites Us by Dan Rather and Elliot Kirschner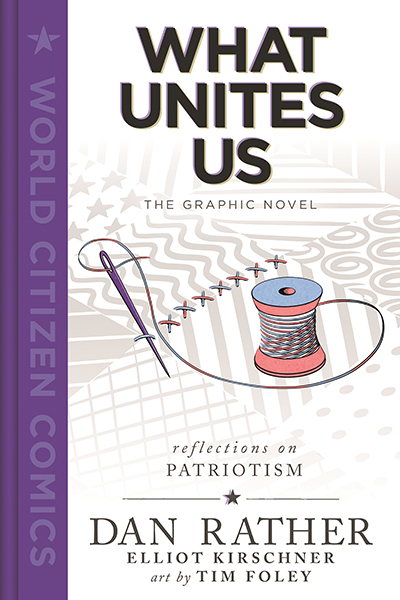 In this graphic novel adaptation of his bestselling collection of essays, legendary news anchor Dan Rather provides a voice of reason and explores what it means to be a true patriot.
Brought to life in stunning color by artist Tim Foley, What Unites Us: The Graphic Novel takes apart the building blocks of this country, from the freedoms that define us, to the values that have transformed us, to the institutions that sustain us. Rather's vast experience and his unique perspective as one of America's most renowned newscasters shed light on who we were and who we are today, allowing us to see a possible future, where we are one country; united.
Sign up below for your chance to get a prerelease copy of What Unites us by Dan Rather and Elliot Kirschner; illustrated by Tim Foley.
NO PURCHASE OR PAYMENT OF ANY KIND IS NECESSARY TO ENTER OR WIN THIS SWEEPSTAKES. VOID WHERE PROHIBITED. Open to U.S. residents of 50 US & DC, 18+ years. Limit 1 entry per person. Odds depend on # of elig. entries. Begins 8:00AM (ET) 10/8/20; ends 11:59 PM (ET) 10/11/20. 100 Prizes: ARC of What Unites Us. ERV: $0. Official rules and entry at https://rb.gy/gxczir. Sponsor: Reed Exhibitions, a division of RELX Inc.