Be a Part of MCM Comic Con London's 2021 Artist Alley
Artist Alley applications close 5 PM BST on Monday, 9 August, 2021.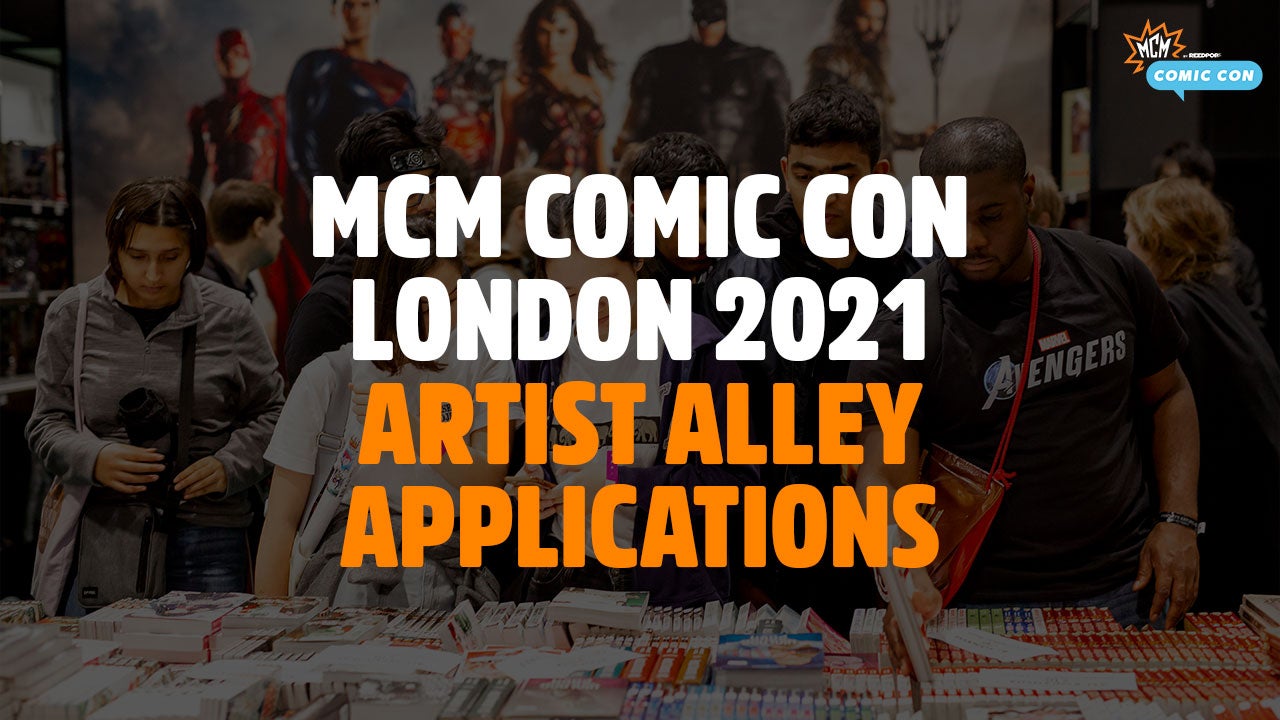 Here is your chance to be a part of MCM Comic Con London's 2021 Artist Alley!
Please fill out this registration form completely and fully.
Space is limited and this form will close on Monday, 9 August at 5:00 PM BST. Artist Alley is curated and NOT first-come, first-served; the order that we receive applications does not have an impact on whether you receive a table.
Note: if you were accepted for a table at previous events, you are not automatically accepted to the event in 2021 - you must re-apply each year.
Instructions for obtaining an Artist Alley table:
Fill out the following table request form (this is not a contract). Registration will close at 5:00 PM BST on Monday, 9 August, 2021.
Please limit your application to one creator submission; we cannot accept applications from publishers or other group submissions.
We will contact all artists by 5:00 PM BST on 18 August, 2021 with the status of their registration.
If your request is accepted you will then be sent a contract and you will need to send in your signed agreement with payment no later than Monday, 13 September, 2021.
All artists who are accepted will be welcome to purchase a full-size table, two chairs and two badges for £130 + VAT.
You must pay in full Monday, 13 September, 2021 in order to reserve your space, so please plan accordingly.
Before you officially apply for MCM Comic Con London's Artist Alley, please be aware of some of the rules and restrictions we have to ensure all artists have a successful and enjoyable event.
All banners/displays must be free standing, single-sided and only a few inches deep. Please make sure that the tops of all banners/displays are no more than 8ft tall (from the floor) and no more than 5.5ft wide; please keep in mind that tables are 2.5ft high when measuring your display.
Displays on tables need to be inward facing and no taller than 4ft; no artwork should face out towards another creator's table; displays cannot obstruct the visibility of other tables.
The sale of unlicensed material or stolen artwork is strictly prohibited. Trading Standards will be onsite and have the authority to close down your stand if you're found to be infringing these rules.
All artwork displayed needs to be the work of a creator who is present at the table; do not display the work of an artist who is not at the show.
All displayed artwork must be kept to a PG-13 rating.
Artist Alley tables cannot be primarily used to sell merchandise. Artist Alley tables are exclusively for creators who have artwork or other items directly related to their work for sale at their table (i.e. sketchbooks, prints, comics, pins, stickers etc.). We ask that any merchandise sold at your table be limited as to not take up the majority of your display and that it is presented in a clean and professional manner. Please note that clothing such as T-shirts, hats, jackets etc. cannot be sold at your Artist Alley table. If you have questions about what you can sell in Artist Alley, please contact.
2021 ARTIST ALLEY APPLICATION FREQUENTLY ASKED QUESTIONS
We're sure you've got questions. Here's a few of our most asked. If you have any other questions about applying, don't hesitate to reach out to our team at mikenegin@reedpop.com.
We will be running all our shows with reduced capacity. With our new safety precautions in place, attendance and badges will be very limited so that we can ensure physical distancing. We're working closely with each convention center to determine how many people are permitted in the building every day and at a given time.
We are requiring approved face coverings for all individuals attending our events, including our exhibitors and staff. They must be worn at all times within our venues. For more information, you can visit the FAQ page on our website.
If you understand and are amenable to all the above, you're all set to apply.