The most important aspect of New York Comic Con and MCM Comic Con is, and has always been, the people you meet along the way. Here's how you can get that waiting-in-line-geeking-out experience without actually waiting in line.

New York Comic Con YouTube Channel
We've partnered with YouTube to bring you the coolest video content during all four days of NYCC x MCM Metaverse. The New York Comic Con YouTube channel will be the only place to watch free panels throughout the weekend. Get your con-prep started by subscribing to the channel, turning on notifications, and checking out the Community tab for news, announcements, and funny gifs. During the show, set reminders for the panels you want to see so you're in your 'seat' early, then hop in the live chat to hear what other fans are excited to see (and maybe some surprise celebrity appearances)!
---

Meet Fellow Fans on Discord
Considering this wacky year we've had, the best place to meet other passionate fans is in Discord, a virtual space where you can connect with other fans that love what you love in chat or voice channels, or stream games & video. Love Fan Meetups at our live events? We'll be holding those on discord!
---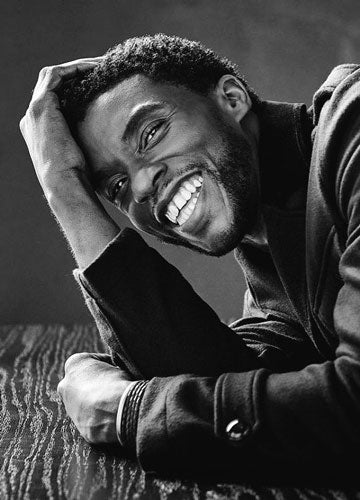 Chadwick Boseman Tribute
On August 28, 2020, we lost an incredible actor who moved us through his work as an Avenger and the King of Wakanda. We invite you to celebrate Chadwick Boseman's legacy as T'Challa and his film career by sharing a short quote, fan art, or cosplay photos of how he inspired you personally.
Colon cancer is the second leading cause of cancer-related deaths in men and women in the US. Please consider donating to charities that work to fund research and spread awareness about this disease.
---
Win a Merch Swag Bag!

Sign up for our emails by October 11 and you're entered into an awesome sweepstakes to win a merch swag bag! Our emails aren't like those other emails - we've got guest announcements, panel drops with celebs and creators, and tons of exclusive merch.

Face Time with Celebs

Not only can you join a rich community of fans, you can also get in some quality time with your favorite celebs during Metaverse. Check out one-on-one meet and greets, personalized videos, and an exclusive Q&A panel with the splads.

Fan Meetups

Remember that Spider-Verse meetup outside the convention center? Yeah - it's like that. In the Metaverse.

Quizzes

Wondering what dipping sauce you are? Which order to watch the Star Wars movies in? I can't tell ya - take a quiz and it'll be the judge.

Be a Part of Metaverse

Our fans are what make our shows special, and it's even more important while we're going to cons from home. Show us how you're preparing for NYCC x MCM's Metaverse, submit a video or written question for celebs, share your fan art, cosplay, and more.

Get Together with Other Fans

Remember that one conversation you had in line for a panel where you finally got to unpack your Lost theories with another fan as excited as you? We're creating that magical place over in our Discord server, where you'll meet fans from around the world.

Bid on Unique Art & Support St. Jude's

Please join us for the 10th Annual NYCC x MCM Metaverse Charity Art Auction to benefit the St. Jude Children's Research Hospital! Over 150 creators are generously donating original art for the auction this year, which runs from October 2-11.

Find Your Fandom

If you're an anime fan, a gamer, or you're just here to build your reading list for the winter, there's a home for you in the Metaverse. The navigation bar at the top of this website has quick links to fandoms and you'll find related panels, guests, merch, exhibitors, and creators in each.

Get Social

Connect with us and other fans on social with #NYCCMetaverse and #MCMMetaverse to share your Artist Alley finds, participate in contests, and join in the conversation.
---
Fandom Focused Quizzes
Ever wonder which dipping sauce really embodies your personality? We can help you find out - and while you're at it, figure out your next book, comic, or cosplay! These quizzes are short, fun, and make great ice breakers in Discord.
What McDonald's Dipping Sauce are You Based on Your Anime Preferences?

Have you ever wondered which McDonald's dipping sauce matches your personality? Well wonder no longer! This quiz will tell you which sauce you are - based on your anime preferences.

Which Comic Should You Read Next?

There are so many talented comic creators and so many titles, it can be overwhelming knowing what to read next. We've made this handy quiz so you know just what your next comic read should be.

Which Character Should You Cosplay Next?

Take this quiz to figure out which character you should cosplay next. It won't help you procrastinate any less, but maybe the results will give you some inspiration.

Which TV Genre Should You Watch Next?

Do you spend more time scrolling through apps trying to decide what you are in the mood for rather than actually watching TV these days? Don't worry, we got you.

Which Tabletop RPG Class Should You Play?

In RPGs, class determines what a player is able to do and how they interact with the world. But it can be hard to choose what kind of character you want to play, so take this quiz to find out which class works best for you.

Which Book Should You Read After NYCC X MCM Metaverse?

We're giving fans a front row look at new books and behind-the-scenes peeks at some of your favorite titles. But with so many awesome books highlighted, what should you read next?
---